Account holders are overwhelmingly moving to mobile banking as their primary way to bank. With so many customers and members using digital formats to perform standard banking transactions, it's no surprise to see a continued decline in physical banking activity.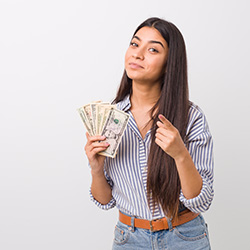 Banks and credit unions alike are missing out on critical face-to-face interactivity. Encounters that helped build trust and differentiated the brand experience. But it is not just brick-and-mortar locations being affected. Non-digital channels across the board are seeing drops in use – including the ATM.
But that shouldn't come as too much of a surprise. I mean, who uses the ATM, anyway?
ATMs are still a thing, especially with Gen Z
Some banking experts may be astonished to discover that, despite other technology-dependent behaviors, young adults are still the primary users of ATMs. Consumers between the ages of 18 and 34 visit an ATM over seven times per month, according to a recent Mercator Advisory Group report. Yet older generations were far less likely to frequent a banking machine, visiting three times a month or fewer.
But Gen Z isn't like previous ATM users, grabbing cash and taking a hike. While they enjoy the benefits of cash machines, they are also more likely to use other options at the ATM – like depositing funds. The average young adult reported dropping cash back into their accounts nearly five times monthly.
Cash? Isn't Gen Z the Person-2-Person Payments App Generation?
Zelle, Venmo, CashApp…there are a growing number of options for person-2-person (P2P) payments. Yet over half of Millennials prefer to be paid with cash. And Gen Z is even more of a stickler for physical currency. Only 39% of Gen Z use P2P regularly, and well over one-third prefer to use cash for in-person payments.
But it's not just P2P where Gen Z leans on cash. This generation has seen their predecessors get caught in the traps of college debt and over-spending. As a result, they begin researching finances in their early teens, speak to financial planners, and are already making moves to secure their financial independence. Over half of Gen Z have a savings account, and nearly as many have active checking accounts.
These financially savvy young adults see the benefits of using real dollars and cents to help them budget, save money, and manage their finances more responsibly. TikTok influencers are pushing this trend with strange tips such as stashing cash in used alcohol bottles, envelopes, and other "cash-stuffing" moves. Gen Z sees cash as a way to control their money.
Okay, but why the ATM?
Have you heard Gen Z called the "throwback generation"? Reports show young adults are regularly on the hunt for styles, entertainment, and other nostalgia from what was popular in the early 2000s. Things like The Gap, Ambercrombie & Fitch, and Adam Sandler are suddenly cool again.
ATMs might not be 2000's "old-school," but they have a bit of that old-tech feel. And their popularity was certainly high early in the millennium. However, the popularity of ATMs is hardly reliant on their "cool" factor with Gen Z. It's all about location, location, location.
You see, in addition to Britney Spears and giant, wired headphones, Gen Z has also come to love something else easily accessible during the pandemic – convenience store food. A recent study from NACS reports adults 18 to 29 now purchase more convenience store meals than they did three years ago. Similarly, young consumers have been driving the most significant portion of c-store food sales, which grew by three percent over the past five years.
And what do convenience stores have beyond snacks and ready-made meals? An easy way to access cash…right at the ATM.
Why it matters for bank and credit union marketers
Gen Z (and everyone else) might think of the ATM as lovable old-school tech, but today's ATMs are hardly the clunky machines of the past. There is no reason to let these young adults use machines without leveraging that moment for meaningful interaction. Financial institution marketers should take the time to evaluate their goals for Gen Z and include ATMs in their plans for account access and strategies for cost-effective account holder outreach and acquisition.